"What If You Were Able To Create And Sell Products That Were Exactly What Your Customer Wanted, Every Time?"
This is exactly what I have been studying and implementing in my own business as well as my clients businesses over the past year. It is something that I call Generation U. No, not Gen-X or Gen-Y or the Baby Boomers.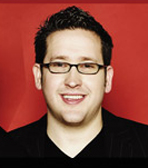 Hi, my name is Nick Nanton, best selling co-author of the Next Big Thing and Celebrity Branding YOU!, as well as the founder of the Celebrity Branding Agency where we help experts, authors and small business owners create Celebrity Expert® status to help grow their credibility and their revenue.
And today I want to talk to you about Generation U!
You see, once you learn how to market to Generation U, the way you do business will completely change. The way you communicate with your customers, the way you create products and services and the way your income and revenue grows as well. All from relating to your market and then…
…giving them exactly what they want.
Introducing the Generation U Sales and Marketing Package!
In this 4 part series, I will reveal to you exactly who and what Generation U is and how to effectively relate to, market to and sell to them. In this exclusive digital package you will learn:
Exactly who Generation U is and what they want from your business
How corporations changed the buying landscape and how you have the golden opportunity to bring back one-on-one customer relationships
How technology is rapidly changing and evolving to give your customers more choices, more options and more personalization
How to reach the masses through advertising and marketing, yet still be personal and open with your market
How to collect data from both prospects and customers to deliver a personalized experience
How to use the information on social networks and profiles to create custom packages and marketing pieces
The 4 inside secrets to connecting with Generation U that has created massive increases in sales in our organization
How to create an effective Celebrity Brand to enforce the fact that "people buy people"
Exact scenarios, examples and case studies of businesses just like yours being impacted by Generation U marketing and sales
And so much more…
Generation U is a multimedia, digital course designed to teach you how to relate to a new generation of consumers. A generation that wants to hear from you, build a relationship with you and market your goods and services to their friends, families and social circles of influence. And you can learn how to tap into it all after going through my new course.
When you take action today, you will have instant digital access to:
4 Interactive Videos that walk you through the entire Generation U process
4 MP3 files so you can learn these strategies on your iPod, in your car or wherever you listen to audio files
An action taking workbook so you not only learn the concepts, but you also take action to get the results that you desire.
This entire content creation package can be yours for only $47 today. Click the Add To Cart Button below for instant access.
I am so sure that these techniques will make an impact on your business that I am willing to put it on the line for you. If, after going through the entire Generation U course you are not seeing a difference in your business and how it plays a role in your overall marketing strategy, I will give you 100% of your money back, no questions asked. This is part of my 30-Day Money Back Guarantee.
If you are ready to start meeting your market on the same playing field. Giving them what they want. Helping more people stand out as individuals with your brand as the home field, then you need to join my new program and take advantage of the proven methods and strategies I unveil to you.
So if you are ready to see what Generation U is all about, and leverage the direct marketing, social media and personal branding powers that come with relating to Generation U, then join us today for the low introductory price of only $47. Click the Add To Cart Button below for instant digital access.